This post examines the mysterious death of Elise Dallemagne, which may be connected to 8 other deaths of young, healthy people in the past 5 years.
Victims & Timeline
Nick Pearson, 25: January 1, 2014
Hannah Witheridge, 23: September 15, 2014
David Miller, 24: September 15, 2014
Dimitri Povse, 29: January 1, 2015
Christina Annesley, 23: January 21, 2015
Luke Miller, 26: January 8, 2016
Valentina Novozhyonova, 23: February 11-16, 2017
Elise Dallemagne, 30: April 21-28, 2017
The Death of Elise Dallemagne
On April 21, 2017, CCTC footage captured the last, grainy images of 30-year old Elise Dallemagne walking away, down a path, on the Thai island of Koh Tao. 7 days later, her body was found, partially-eaten by lizards, and hanging in dense jungle brush. At first, authorities categorized Elise's death as a suicide. After pressure from her family, and in the context of 8 other unusual deaths on the island, authorities have re-opened the case.
Elise, originally from Belgium, checked in to the Triple B Hotel at Mae Hat Bay on April 19, 2017. She initially wrote "Dallemagne" when booking the room but scribbled
this out and wrote "Dupuis" instead. Elise requested the cheapest available room. When asked at check-in, Elise refused to provide her passport details and said she would give that info later. Elise booked a flight to Chumphon Province on the mainland and her luggage arrived via boat after her death.
Elise had been backpacking around Asia in the two years prior to her death, appearing to have a particular affinity for Thailand as she made multiple stops there on her visits through India, Australia, and New Zealand. Shortly before her death she was living at a yoga/tantra retreat on Koh Phangan. There are also reports she was a member of the Sathya Sai Baba cult and resided at one of their ashrams for several months along with self-proclaimed "guru," Raaman Andreas, of Germany, and 2 female friends. To date, no one has been able to determine why Elise made a pit stop at Koh Tao instead of remaining on the ferry to deboard on the mainland.
On the night Elise checked in to the hotel, an unexplained fire tore through three of the huts on the property, including Elise's. Elise ran 1.5 miles through the jungle to Tanote Bay where she booked a room at the Poseidon Resort. This is also where she booked the flight for Bangkok, scheduled to depart on April 24, 2017. Island locals became suspicious when they observed a monitor lizard traveling back and forth from the jungle. Upon investigating, they found Elise's body amongst rocks and brush behind the Tanote Family Bay Resort. Elise had to be identified by dental records and authorities believed she had hung herself approximately 3 days earlier, on April 25, 2017. Her body had been wrapped in old t-shirts or cotton shawls and there was a fuel can near her body. Elise did not leave behind a suicide note and her belongings had been loaded onto the ferry headed for Chumphon Province, which Elise was scheduled to embark upon. There are some reports that Elise's body did not show signs of a struggle and that she had previously attempted suicide. One report, from the Noppawong Police Station in Bangkok, states that Elise attempted on April 4, 2017 to run in front of a moving train; bystanders intervened and prevented her from injuring herself. She was taken to Somdet Chaopraya Institute of Psychiatry for a hospitalization of unspecified length.
Elise's mother stated "Too many things show us that someone is involved…I cannot accept why my daughter should have killed herself. She was normal in the last conversation and no signs of depression were visible."
The Sathya Sai Baba Cult
Sathya Sai Baba (1926-2011) was an Indian guru who claimed to be the reincarnation of Indian spiritual leader, Sai Baba of Shirdi (?-1918). He founded the Sathya Sai Baba organization in the 1960s with an official stated mission of helping members "realize the innate divinity within." Now operating an estimated 1,200 centers in 114 countries, the exact purpose and operation of the organization are unclear. There are numerous reports that it is actually a cult that indoctrinates, manipulates, and abuses its followers. Even a cursory internet search reveals tales of rampant suicides, murders, and questionable sexual activity between the gurus and members. The information available on the great World Wide Web is too expansive and detailed for me to adequately summarize in this blog post so I invite you to venture down that rabbit hole on your own. Suffice it to say that there are dark allegations against the religious sect Elise was a member of.
Shortly after Elise's death, guru Raaman Andreas, with whom she had been previously living, left Thailand for India. The guru recently told an online tabloid that Elise appeared happy and untroubled when he last saw her on April 17, 2017. This was also the last day she spoke to her mother via Skype. Andreas reported that he and Elise interacted minimally on her last stop through the ashram overseen by Andreas. He states that he was preoccupied with planning his trip to India and Elise was similarly busy planning a trip back to Belgium. On July 4, 2017, authorities searched Andreas' home in Koh Phangan in relation to Elise's death but did not find anything suspicious. 
Nick Pearson
Since 2014, eight other young people have died under mysterious circumstances on Koh Tao, now nicknamed "Death Island." The string of deaths began with the drowning death of British traveler, Nick Pearson, 25. Nick was vacationing with his family to celebrate the New Year in 2014 when he disappeared during a swim. His body was found on New Year's Day by a group of scuba divers, very close to the area where two tourists would be found murdered 9 months later. Police believed Nick had fallen from a 50-foot height and then drowned. His family does not find this version of events believable and believes the Thai police are covering up Nick's murder in the interest of maintaining their tourism industry. The family claims they were told by locals to keep quiet and not rock the boat when they began inquiring about conflicting details in Nick's death.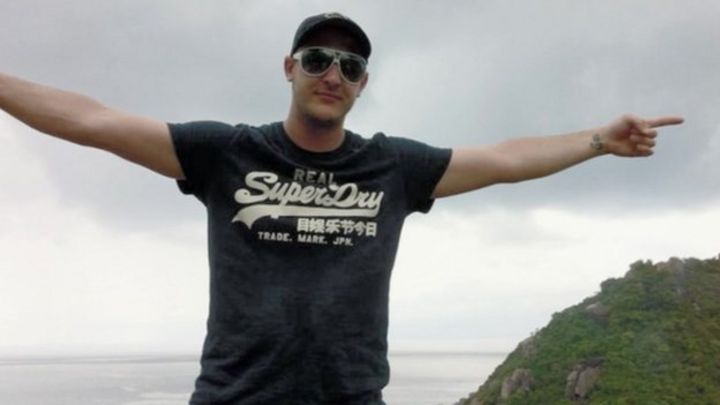 Nick's parents state that they went to dinner on New Year's Eve with a large group of friends and family. They shared a cocktail at Choppers Bar and Grill — the same bar the two murdered tourists visited just prior to their deaths the same year. The family then went to Siree Beach to watch fireworks; around 1am Nick's father escorted him to his bungalow and watched him climb into bed. That was the last anyone saw him alive. Nick's family theorize he may have offended someone when he took an interest in a woman at Chopper's Bar.
When Nick did not appear the following morning, his family became concerned. Hotel staff then informed his mother that Nick had been found dead in the ocean. When the family was brought to claim Nick's body, they noticed a nasty gash on his forehead and became suspicious of police's version of events. An autopsy performed in the U.K. added further confusion — Nick had no broken bones. His family argue that Nick would have never gone swimming alone at night and, if he had fallen from near his bungalow to the water below, he would have landed on rocks — and why did he have no broken bones to show for this tumble? Additionally, Nick had dried blood on his body and did not appear to have been submerged in the water for an extended period of time. Nick's family claims that investigators never searched his room or conducted anything resembling an official investigation into the circumstances of his death. The autopsy conducted in the U.K. deemed it possible that Nick was assaulted before drowning and noted multiple injuries to his head, face, and limbs but was unable to definitively conclude whether Nick was attacked prior to drowning.
Hannah Witheridge & David Miller
Witheridge, 23, and Miller, 24, were backpacking from Britain in September, 2014 when two Burmese men ambushed them. Claiming they believed Miller was raping Witheridge, the men claim they went to her aid and allege that they found Miller on top of Witheridge, and heard Witheridge crying and repeatedly stating "I'm sorry, I'm sorry." At some point in their supposed rescue of Witheridge, one of the men raped her. Both men then beat Witheridge and Miller to death, with one of them using a garden hoe. The men initially confessed but later recanted, stating that they were forced into confession. Witheridge and Miller were mostly unclothed and spaced several yards apart from one another. An autopsy on Witheridge showed indications of sexual assault. The men claim they are being scapegoated by an incompetent police force and corrupt government seeking to quickly close a murder investigation in the interest of protecting their travel destination image. There are some reports that Witheridge and Miller were seen arguing with a Thai man at Choppers Bar and Grill shortly before they were murdered.
Sean McAnna, 25, a friend of the deceased tourists, claims he was discussing their murders in a Koh Tao Bar when two men approached him and said they would kill him if he continued questioning the official explanation for their murders — and that they would make his murder appear to be a suicide. McAnna states: "They just said to me, 'We know you killed them. You're going to hang yourself tonight and we are going to watch you hang. You will die tonight." McAnna took off running and fled into a convenience store where he posted on FaceBook: "Thai mafia are trying to kill me, pease help." Police were summoned and escorted McAnna back to his hotel but he fled from them, too, believing they might harm him as part of a larger conspiracy. McAnna spent the night hiding in the jungle before boarding a boat to leave the island the next morning. McAnna believes the Thai police want to pin the deaths on a Westerner to draw attention away from locals having committed the murders.
Based on crime scene photos I have viewed, it appears Hannah was the intended target and sexual assault/deep-seated rage and hatred of women was the motive. It appears David was killed because he was in the way.
Dimitri Povse
While on holiday, Povse, 29, from France, was found hanging on the balcony of his bungalow with his hands tied behind his back. Discovered on New Year's Day of 2015, his death was ruled a suicide. Officially, there were no signs of a struggle and he left a suicide note in his room.
However, some reports suggest that Povse had two 5-cm lacerations on his arm, one near the elbow and the other near his wrist. Additionally, several pieces of rope from different sources were found at the scene. Hanging suicides where the victim binds their hands behind their back are exceedingly rare. I was unable to locate an official statistic but a cursory search found only seven reported instances of this — one of which is the highly-questionable "suicide" of Rebecca Zahau (to be explored in a future blog post). While hanging victims might bind their hands to prevent themselves from undoing the noose at the last minute, the bindings are almost always done in front of the body.

Christina Annesley
Annesley, 23, died under mysterious circumstances shortly after arriving on Koh Tao. She was two weeks into a 4-month long backpacking excursion across Asia when she was found deceased on January 21, 2015. Two days before her death, Annesley tweeted that she had obtained medication, including Tramadol and Valium, for a chest infection.
Annesley died of "natural causes" which may have been related to the chest infection and/or the medication she was prescribed for it.
Although no toxicology report was conducted, authorities concluded Annesley had mixed her medication with alcohol, causing lethal consequences. Her family later obtained CCTV footage that showed a man leaving Annesley's lodge just hours before her body was found. They were able to track the young man down but he was never officially questioned by police. The family found the young man to be "very straightforward" when they spoke to him on the phone and the family does not suspect him of being involved in Annesley's death. Still, there was no thorough police inquiry into her passing.
Luke Miller, 26: January 8, 2016
Miller, a bricklayer vacationing with a friend, arrived on Koh Tao on December 22, 2015. His body was found at the bottom of a pool at The Sunset Bar on Sairee Beach on January 8, 2016. Authorities and the bar owners contended that Miller died from "misadventure" when he climbed, inebriated, to the top of a DJ stand and dove into the pool. However, his family and friends did not accept this version of events, arguing that Miller would not have engaged in such a stunt when no one else was there watching it and question why his body was not found until the following day.
CCTV footage captured Miller at the bar until the early hours of the morning but security did not observe his body in the pool during their 5:30am rounds. His body was not found until 7:20am. Additionally, there were rumors that Miller had been physically assaulted — and, possibly, head-butted — by a patron at a different bar on the eve of his death but the source of this information was never vetted. There were further rumors that Miller had been accosted in relation to losing his rental motorbike's key — just hours before his death. Miller's family and the friend he was traveling with believe there has been a coverup by the Thai police in regards to the circumstances surrounding Miller's death. Countering, the Thai police say they have produced a thorough investigation and report.
An autopsy revealed Miller had slight abrasions and bruises on his face and legs. Bruises resembling palm prints were reportedly observed on his upper body although the autopsy made no mention of them. The cause of death was officially listed as a head injury and drowning. Authorities contend that the abrasions on Miller's face were caused by the barbed wire he had to scale over in order to access the DJ stand. Miller had a blood alcohol content 1.75 times the legal limit in the UK and traces of Ritalin in his system.
Valentina Novozhyonova, 23: February 11-16, 2017
On February 11, 2017, Novozhyonova checked in to the Koh Tao Hostel, intending to stay until February 16th while completing a free diving course. When she had not checked out or been seen by February 24th, the hostel owner alerted police. Inside Novozhyonova's room, authorities found her cell phone, passport, and camera.
In early March, 2017, human remains were found in addition to a green vest, diving goggles, and a goggle strap. The articles were found in water about 4-5 meters deep and 400 meters from shore. Three bones, including one large enough to be from a human pelvis, were also found at the site. Investigators believe Novozhyonova drowned while free diving off the coast of Koh Tao. While authorities were said to be conducting DNA tests on the remains which would yield results by the end of March, 2017, I have been unable to locate the results of the DNA testing.

Theory
The deaths of Valentina Novozhyonova, Luke Miller, and Christina Annesley all seem fairly well explained as deaths by misadventure — free diving by someone generally inexperienced in such a dangerous venture, a deadly diving accident by a highly-inebriated man, and a unfortunate cocktail of alcohol and prescription medication coupled with dehydration. Ruling those three cases out, we're left with a clear double-homicide (Hannah Witheridge/David Miller), two suspicious suicides (Dimitri Povse/Elise Dallemagne), and one unexplained death (Nick Pearson).
It seems entirely possible from the literature available that there have been cover-ups on the part of Thai police and/or mafia on the Island of Koh Tao. Whether it due to violent crimes resulting in rape and murder or because the island is simply a magnet for distraught, suicidal individuals — the police and government would have adequate reason to sweep these incidents under the rug in the interest of maintaining tourism. The fact that the Sathya Sai Baba Cult has a satellite operation out of Koh Tao doesn't help matters. It's all very sad for the families of these young people who will probably never get the answers they seek.